There's More to MASCARA than Meets the Eye
No. 23 Arabesque Majestic Volume Mascara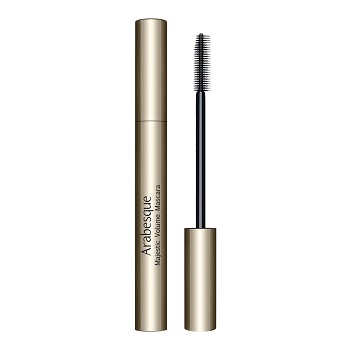 DESCRIPTION
Arabesque Majestic Volume Mascara is housed in a beautiful, gold tube with neat names of the brand and mascara. The packaging is very elegant and impressive.
The bottle comes with a silicone wand. The brush's bristles have an untypical arrangement – shorter on one side, longer on the other, resembling a lash comb.
The main task of the mascara isn't just thickening and lengthening but also providing the right lash care. It's thanks to Vitamin B5 and Almond Extract which protect lashes from damage and nourish to deliver strength and shine.
The wand does great with bottom and corner lashes, too. It effortlessly grabs them and coats with the right quantity of the product. Thanks to different lengths of the bristles, you get the effect of separated, longer and voluminous lashes. Longer bristles effectively comb the lashes so even if you apply too much, you can remove it with the bristles which work as a comb.
I must admit that the silicone brush is very precise. It's a good thing because the mascara doesn't have a watery consistency and it tends to leave clumps. The longer bristles come to rescue, helping to comb and separate the lashes. The wand is quite small and easy to operate during makeup application.
Arabesque Majestic Volume Mascara is highly-pigmented yet it flakes off after a few hours of wear. It doesn't handle unfavorable weather conditions either. On rainy days, it's going to smudge. On the other hand, the mascara is easy to remove and wash off with a mild product for sensitive eyes.
The mascara has 7 ml and costs more or less $20.
PURPOSE
Arabesque Majestic Volume is going to work on all lash types. It gives a gentle thickening and lengthening effect so it's amazing for the everyday makeup.
INSTRUCTIONS FOR USE
Because of different lengths of bristles 'growing out' of the brush, you apply Arabesque Majestic Volume following the steps:
first, use shortest bristles to precisely coat and grab the shortest lashes
next, turn the wand and use longer bristles to coat the long lashes and separate them for the extension on the entire lash line.
BENEFITS
a fancy tube
an attractive price
an interesting, precise silicone wand
lash-conditioning ingredients
easy to wash off during makeup removal
DOWNSIDES
a quite sticky consistency which doesn't make it easier for the brush to build volume
the application is hard
the mascara may flake off and fall on cheeks
unsuitable for the evening makeup, it guarantees just a subtle extension and volume