There's More to MASCARA than Meets the Eye
No. 30 Too Faced Better Than Sex Mascara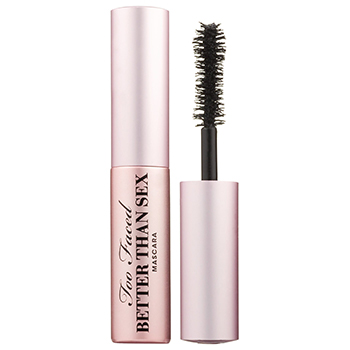 DESCRIPTION
Too Faced Mascara attracts attention with a nice, powdery pink, metal bottle as well as with a provocative name. The mascara is supposed to be better than sex. In what way? Does the application bring fantastic experiences? Or maybe it guarantees desired effects? There's one sure thing – the name temps to try the mascara out. The nylon wand has an untypical, hourglass shape. The spiral is slimmer in the middle and it's wider on both sides. The bristles are densely-arranged, quite thin and flexible at the same time. This is what makes the watery, powdery mascara easier to apply. It's going to be popular among girls who have short and thin yet thick eyelashes. The mascara truly delivers a spectacular effect – length and volume. It nicely defines the lash line. Thanks to Better Than Sex Mascara, lashes are intensely black and defined. The hourglass-shaped wand allows for coating the lash line, including the corner lashes. The mascara lets you get good effects with two coats. If you want to apply more, be careful to avoid clumpy roots. Waiting for one layer to dry before applying another one isn't a good idea; clumps of mascara settle on the lash tips. It's because of the polyester fibers. They're great if you're into a subtle eyelash makeup and gentle lifting effect. I guess it's not the result one would expect from a better-than-sex mascara. Sadly, a few coats weigh lashes down and leave them sticking-together which looks really bad. So a comb is a must to fix the damage done by the fibers. This is what makes the makeup application much longer. Flexible and dense nylon bristles have a problem separating the eyelashes that are covered with the dried mascara. It would be a good idea to replace the wand of Better Than Sex Mascara with a silicone brush, which would make applying next coats more precise.
The mascara has an intense, deep, black shade but too bad it isn't long-wearing. It's hard to remove the product and it takes some time (the fibers get under the eyelids). The mascara is non-irritative but it's not recommended to contact lens wearers due to the polyester fibers.
Too Faced Mascara has a capacity of 8 ml and costs $23. You can get a travel-size version for $12 (4 ml).
PURPOSE
The mascara is dedicated to girls whose lashes are thin, short and fair. It gives length and volume. The mascara intensifies the look and has a strong black color. Too bad it's not recommended to contact lens wearers because of the polyester fibers.
INSTRUCTIONS FOR USE
You apply Better Than Sex Mascara in a traditional way: coat the lashes from roots and move the wand upward to the tips. You must learn to precisely operate the brush for best effects with two layers. The fibers aren't good at applying next coats.
BENEFITS
a nice, feminine tube
an intriguing name
an interesting wand shape
an intense black color
a bold makeup effect
DOWNSIDES
fibers leave clumps
unsuitable for contact lens wearers
a fairly time-consuming removal
the fibers get under eyelids and may irritate the eyes
with a few coats, the wand fails to deliver a nice separation
the consistency and the wand's shape require a bit makeup experience
it isn't long-wear, slightly flakes after a few hours
only one color available