There's More to MASCARA than Meets the Eye
No. 16 Bareminerals Flawless Definition Mascara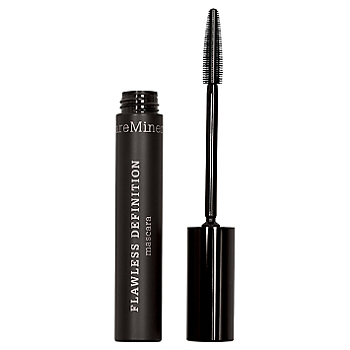 DESCRIPTION
A black, matte, minimalist and aesthetic bottle houses a silicone, cone-shaped wand. Each individual hair of the bristle is conical. Such a shape lets you freely operate near the entire lash line for a precise effect of longer and nicely-separated lashes.
Flawless Definition Mascara includes pure minerals and natural oil extracts that condition the eyelashes as well as provide a good, a bit slick consistency of the mascara. This is what makes the application easier and leaves lashes bouncy and shiny with deep blackness or saturated brown (two colors available).
The wand features a fairly short, sparsely-arranged bristle. It resembles tiny combs surrounding the tip of the applicator. That's why it's easy to comb the lashes and curl them up. Silicone brushes are easy to clean so you don't need to worry about the condition of your lashes or clumps on the surface of the wand.
You can't get spectacularly voluminous lashes with this mascara yet the extension and lift are guaranteed thanks to sparse bristle.
The mascara doesn't dry right away. Thanks to the consistency, you can apply next coats and you need a few to see the effect. Flawless Definition Mascara costs around $20 and has a capacity of 10 ml.
PURPOSE
The mascara is intended for a subtler, day makeup. You need more effort to get an intense look.
Flawless Definition Mascara makes a great choice for women who like classic shapes of wands. It ensures a good and easy coating. The mascara is dedicated to women who have short yet fairly full and thick lashes which don't need volume boost. The product effectively curls them up for the open eye effect. It's also going to suit women whose lashes are bent in different directions. The tiny combs, on the wand, effortlessly separate the lashes.
INSTRUCTIONS FOR USE
The wand's classic shape requires a traditional application: hold it horizontally and coat your eyelashes, moving from roots to tips. Repeat several times for an intensified extension. To be sure that each and every lash is evenly coated, you can use gentle zigzag motions – move the wand from one side to the other. Each eyelash will be 'wrapped' with the mascara.
BENEFITS
mineral-based and safe
an interesting, precise, silicone wand
a stylish, classic tube
well-pigmented
easy to take off
flake-free and streak-free
conditions the lashes
good lengthening and separation
DOWNSIDES
just one color is available
it's hard to get the effect of thicker lashes
the application takes lots of time
it's good just for the day look, guaranteeing the effect of a soft eyelash makeup