There's More to MASCARA than Meets the Eye
No. 10 Christian Dior Diorshow Iconic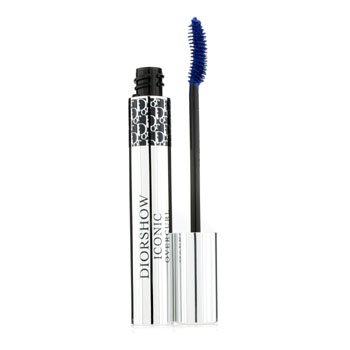 DESCRIPTION
Diorshow Iconic Mascara is housed in a beautiful, silver bottle with impressive ornaments. The fancy tube conceals an innovative, patented by Dior, elastomer brush that aims at coating the shortest eyelashes and curling them up for a fan of lashes. The bristles are densely-arranged, which guarantees precisely-coated and curled lashes after just one sweep of the brush. There's no point in rotating the brush to 'catch' all of the eyelashes. The bristles spiral around the wand and do the job. This is what reduces the application time and ensures a flawless effect, free of smudges and spots on the eyelids. What's more, the special, silicone brush separates lashes one by one.
Diorshow Iconic comes in three shades (black, deep blue and dark brown). The mascara has been enriched with the formula aiming at conditioning and smoothing the lashes and delivering the hold without clumps or flaking.
The black version is quite well-pigmented. Too bad, the other two shades are nothing special, giving the mild coating. Only the black hue guarantees a top-class makeup. Quid pro quo – a good black pigment requires a good remover that deals with taking the mascara off without having to rub the skin and pull the lashes.
The mascara has 10 ml and costs about $30.
PURPOSE
Diorshow Mascara is cut out for the quick, troublefree and go-to makeup that looks good after just one coat of the product.
INSTRUCTIONS FOR USE
You don't need much skill to operate the wand of Diorshow Iconic. Moreover, the wand's structure doesn't require swirling or zigzag motions. The traditional bottom-up movement will do for a nice coating. The eyelashes are defined and curled thanks to a well-designed wand.
BENEFITS
a beautiful, tasteful tube
a large capacity
an innovative, twisted wand
a quick and easy eye makeup
an immediate separation, volume and curl
DOWNSIDES
the mascara fails to give a bold effect e.g. for a night out
the mascara requires a good makeup remover
only the black shade has a nice color