There's More to MASCARA than Meets the Eye
No. 17 Collistar Mascara Infinito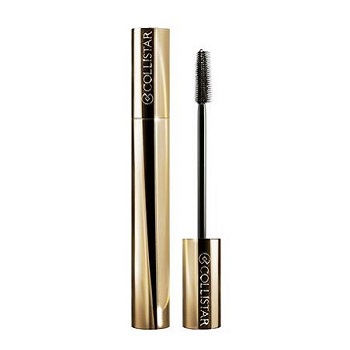 DESCRIPTION
Mascara Infinito is said to be one of the best products that have been launched by Collistar. A silicone wand with an ultra-thin, precisely and densely-arranged bristle surely makes for the mascara's success. The brush has a traditional, simple shape and it slightly narrows upward. The bristles on one side have the same length and look like a tiny comb. They're quite long so you can precisely separate and comb every eyelash, lifting it. The bristles guarantee a perfect coverage, too. Thanks to densely-arranged bristles, you avoid applying too much of the mascara. As a result, the lashes are nicely-coated and separated. No more sticking-together and unaesthetic lashes!
The brush is very good to work with. According to the manufacturer, the mascara lifts, shapes, ideally coats and thickens the lashes. Elastomer spiral actually separates and lifts the lashes nicely, boosting the length. Too bad, you must put more effort to get multiplied volume. Still, you get better effects using other commercially-available mascaras.
The product has a good consistency. It's infused with two types of pearl extracts that reflect the light and illuminate the look. Consequently, the mascara has a slightly charcoal shade instead of a black color. The good news is the mascara's long-wear formula. It's flake-proof and doesn't fall on cheeks. It easily 'comes off' the lashes during the daily makeup removal.
The mascara's design deserves to be appreciated, too. The golden tube is plain and very elegant. The brand's logo is engraved on the cap.
The mascara comes in three colors: black, brown and navy blue. It has a capacity of 11 ml and costs approx. $20.
PURPOSE
The mascara is cut out for a day makeup. It gives an extension and nice separation yet fails to increase volume.
INSTRUCTIONS FOR USE
Because there are longer bristles on one side of the brush (looking like a comb), you should use them first for a precise separation. Next, use the other side of the wand with slightly shorter bristles; they ensure good coating and lengthening, gently boosting the volume.
BENEFITS
a beautiful, elegant bottle
an innovative wand
ideal combing, separating and lengthening
a few color versions
long-lasting
a large capacity in comparison to other mascaras
easy to remove
DOWNSIDES
a poor volumizing effect
it's good for a day makeup only
the black shade isn't intense