There's More to MASCARA than Meets the Eye
No. 3 Dior Addict It-Lash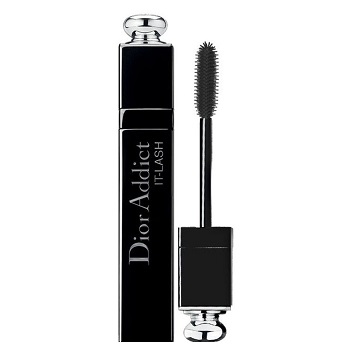 DESCRIPTION
Dior Mascara comes in a lovely packaging which is characteristic for the Addict It range. The bottle is black, rectangular and decorated with a silver ball on top. It looks truly exclusive, unusual and refined. The tube has a neat writing. It can't be denied – Dior designed one of the most interesting mascara bottles. There's a silicone wand inside: thick one and made up of short, dense bristles. The spiral is supposed guarantee the instant effect of eyelash extension, thickening and separation. The tip of the wand has dense, thin and elastomer bristles that easily coat even the tiniest lashes on the upper and lower line. Thanks to the mascara, you can create an intense, trendy look and your lashes will amaze with deep blackness, electrifying sapphire or a daring violet. Addict It-Lash Mascara is available in three color versions. The shades are very well-pigmented, they neither fade nor flake after long hours of wear. Even though the mascara is incredibly durable, it doesn't leave the eyelashes stiff. Abyssinian Oil delivers the bounce and softness and additionally spreads the pigment well and keeps the lashes moisturised. Cotton Liquid Extract has been included in the product as a rich source of carbohydrates and proteins which keep both lashes and the mascara from drying out.
The mascara easily spreads on the lashes. It has a good consistency that allows for applying next layers without worrying about the spider-leg effect. Removing the product takes little time and doesn't pose any problems. Even a cotton pad that is soaked in warm water will do. On the other hand, this is the reason why Addict It-Lash isn't recommended to wear on rainy days. It happens that the mascara starts running down the cheeks during intense rainfall.
Addict It-Lash Mascara has a capacity of 9 ml and costs around $28.
PURPOSE
The mascara is intended for the everyday makeup and all types of eyelashes. It brings extension, volume and soft curl. The brush is quite big so you must get the hang of using it. It's very easy to coat lower lashes and tiny ones on the upper lids (especially, in the eye corners).
INSTRUCTIONS FOR USE
The brush is chubby and has same-length bristles. You coat the lashes starting at the roots. To cover the shortest eyelashes, you must hold the wand vertically and use the bristles at the tip of the spiral.
BENEFITS
beautiful, extraordinary, exclusive packaging
a large, silicone, good-quality brush
good coating, intense colors
interesting range of colors
easy makeup removal
lash-conditioning components
non-sticky
guarantees volume, length and curl
DOWNSIDES
you must learn to use the big brush
the mascara may slightly run down your face during heavy rain