There's More to MASCARA than Meets the Eye
No. 15 Lash Queen Feline Extravaganza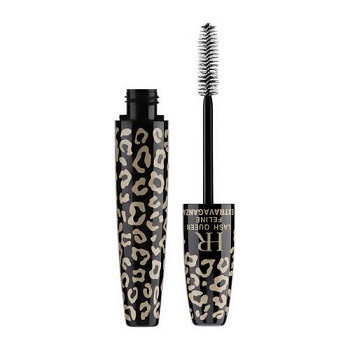 DESCRIPTION
Helena Rubinstein Lash Queen Feline Extravaganza is another product in the Lash Queen range. The black, chubby bottle is decorated with golden spots. This wild, 'tiger' design reveals the mascara's purpose. A straight, wide brush with long, densely-arranged nylon bristles is intended for delivering an extravagant length and volume. The mascara is supposed to guarantee a dangerous, wild eye makeup.
The wand effortlessly grabs every lash and coats it with an intense black. With next layers, the mascara increases volume and gives a considerable length. Lash Queen Feline Extravaganza has a bit 'tacky' consistency and doesn't dry out quickly, allowing for easier volume building.
The fiber brush slightly pulls the lashes and doesn't allow for applying the right amount with the first coat. That's why you get nicely-coated lashes after two or three layers. The nylon bristles leave clumps if you don't keep the wand clean and wash it regularly.
This is what disqualifies the mascara for all women who search for a soft and classic eyelash makeup. Lash Queen Feline Extravaganza isn't made for a subtle makeup. It creates extravagant, bold eyelashes.
PURPOSE
The mascara is dedicated to women who like a dramatic lash makeup and strongly-defined eyes. If you apply Lash Queen Feline Extravaganza without any eyeshadow or eyeliner, the mascara is really striking. The effect is bold, expressive and attracts attention with an intense blackness.
Lash Queen Feline Extravaganza is cut out for big events or for everyday use for women who wear full eye makeup.
INSTRUCTIONS FOR USE
Apply Lash Queen Feline Extravaganza in a traditional way: place the wand at the base of lashes and move gently upwards. Repeat the action two or three times but don't wait for one layer to dry before applying another. Wet lashes are easier to work with.
BENEFITS
an interesting, unique packaging
a thick and wide brush
an intensely-black and highly-pigmented color
a wild and extravagant look
suitable for sensitive eyes
suitable for contact lens wearers
DOWNSIDES
the nylon brush slightly tears the lashes and may pull them out
the mascara won't deliver a soft, classic eye makeup
you need a comb for a nice separation
it's said to leave the lashes clumpy
only one – black – shade is available