There's More to MASCARA than Meets the Eye
No. 4 Guerlain Maxi Lash So Volume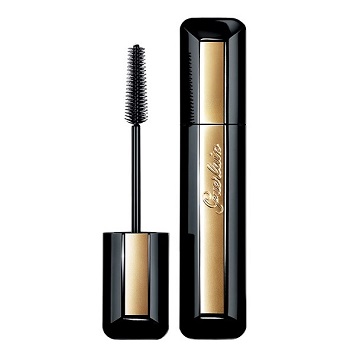 DESCRIPTION
Both the packaging and effect of Maxi Lash So Volume are astonishing. An irregular, black bottle with a golden pattern gives an interesting visual effect. The mascara tube looks like a gold bar. It's like the brand suggests you hold some treasure. The product is supposed to give an intensive thickening and actually the result is visible after the very first coating. Next layer ensures a truly mind-blowing volume.
It isn't just thanks to the good-quality product. A precise, elastomer brush matters as well; it grabs even the smallest lashes, beautifully curling and defining them. The spiral has a classic cone shape which allows for operating along the entire lash line for the false lashes effect. Maxi Lash So Volume has really good pigments. Coated with the mascara, eyelashes amaze with a deep shade of black. Guerlain Mascara lets you create a soft, day makeup or – after a few coats – a total make-over and sexy look.
Maxi Lash So Volume Mascara contains a set of ingredients that care for the condition, hydration and appearance of the eyelashes. These include Abyssinian Oil which doesn't only keep the lashes moisturised but also delays aging.
Hydrolized soy protein and cottonseed extract are valuable components which deliver lash repair, hydration and elasticity.
Moreover, Maxi Lash So Volume Mascara includes also an array of substances that make the mascara long-wear, smudge-free and flake-free. The color is strongly black, saturated and intense thanks to the natural mineral – Mica.
The mascara's scent is another nice surprise. The formula has been enriched with pleasant flowery and fruity notes that turn makeup application into a fragrant ritual (notes of peach, raspberry and white musk). Maxi Lash So Volume has a capacity of 8.5 ml and costs more or less $30. Makeup removal is quick and doesn't cause any problems.
PURPOSE
Maxi Lash So Volume Mascara is designed for both everyday and evening makeup. One layer delivers an intense blackness and volume that you expect during the day. Two or more coats are going to change a woman into a seducer.
INSTRUCTIONS FOR USE
Maxi Lash So Volume is equipped with a traditional, cone brush so it easily separates the lashes and makes flawless makeup easier to achieve. Be careful while applying next coats, though. It's easy to get a cartoonish and too dramatic effect.
BENEFITS
a beautiful bottle
good pigmentation, deep blackness
long-lasting, it doesn't flake or smudge
a good-quality, silicone wand
an amazing fragrance
ideal coating of even the tiniest lashes
great volume and separation
a range of conditioning components
DOWNSIDES
applying next layers requires some skills and experience
available in just one color
fragrance may irritate in case of very sensitive eyes