There's More to MASCARA than Meets the Eye
No. 26 MAC In Extreme Dimension 3D Black Lash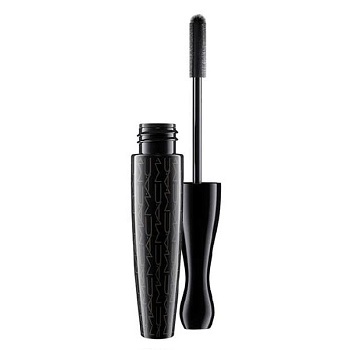 DESCRIPTION
MAC says the mascara goes beyond all limits of blackness which is visible even on the packaging – an intensely-black, sleek tube with matte, black letters making up the brand's logo. The mascara was made for giving the eyelashes a new dimension, delivering an extreme extension and volume. It's supposed to happen thanks to polyester fibers and a silicone, densely-arranged bristles of the wand. The brush is really massive and it aims at coating the lashes with the most of the product with the very first stroke. Polyester fibers are to ensure a gigantic length and increase the volume. Too bad, it happens too fast – the mascara instantly dries on the lashes, not in the form you would wish for. Irregular clumps appear on the lashes throughout their length. As a result, the next coat gives you clumpy and spidery eyelashes. The manufacturer should have given up on the polyester and left the silicone wand which has a very good shape and quality.
Extreme Dimension 3D Black Lash comes in two color versions: traditional black and extreme black. The regular black isn't mind-blowing but the extreme version guarantees a shockingly deep and intense hue.
The mascara isn't long-wear and it flakes. It doesn't do well with rain and snow either (smudges around the eyes). An exceptionally large brush makes the application harder and smears the eyelids and brow ridge.
Extreme Dimension 3D Black Lash costs $23 and has a capacity of 12 ml.
PURPOSE
MAC Mascara is to give length and extreme volume. It's been made for women who have faint and short eyelashes. It guarantees a deep shade of 3D black.
INSTRUCTIONS FOR USE
You must learn to operate the large, silicone wand. Otherwise, the mascara will coat your lashes as well as the brows and eyelids. Polyester fibers require some skill, too. It's best to use decisive and quick motions while applying the mascara for the desired coating and clump-free lashes. Even though the first layer is quite easy to apply, the second coat guarantees clumps.
BENEFITS
a deep black hue
a nice, interesting bottle
a high-quality, silicone wand of a good shape
DOWNSIDES
smudges on rainy days
the wand's size makes the application difficult
the wand's fibers create unaesthetic looks of lashes
it's clumpy
polyester fibers can be a problem for contact lens wearers