There's More to MASCARA than Meets the Eye
No. 28 Christian Dior Diorshow Mascara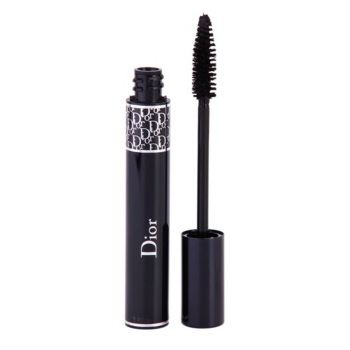 DESCRIPTION
Diorshow Mascara is iconic. The choice of lots of women worldwide. In 2015, the mascara has gone through a make-over. It comes in a surprising diversity of shades – as many as eight deep and highly-pigmented hues (gray, classic black, two shades of sky blue and violet). Dior mascara has been enriched with unique micro-fibers that are supposed to give a vast length, volume and separation. Diorshow is to be a saver for women who have short and thin lashes and the fans of dramatic, burlesque, false lashes effect. The nylon micro-fibers really provide such an effect but you need multiple coats. One layer makes no changes in the eyelash appearance. Still, applying many coats is risky – fibers weigh lashes down and give an unnatural look.
Diorshow Mascara comes in a tasteful, simple, black tube with a golden Dior logo. It looks very refined. The nylon wand with densely-arranged bristles gives a nice makeup effect but applying too many coats may leave clumps and a very unnatural, exaggerated look.
The mascara holds 11.5 ml and costs $28.
PURPOSE
Diorshow Mascara is dedicated to short and thin lashes that need beautifying. Micro-fibers can be problematic for contact lens wearers.
INSTRUCTIONS FOR USE
You need to be skilled and careful to apply Diorshow Mascara. A bit too much… and you end up with clumpy and unnatural effect. The nylon wand is likely to leave the lashes stuck-together, too, especially when you don't keep it clean.
BENEFITS
a nice tube
a wide range of colors
dense bristles
durable
DOWNSIDES
the nylon bristles require lots of skill and attention during makeup application
the bristles may irritate sensitive eyes and be troublesome for contact lens wearers
the eye makeup takes lots of time because you need multiple coats for the lengthening effect
clumpy