There's More to MASCARA than Meets the Eye
No. 2 Chanel Le Volume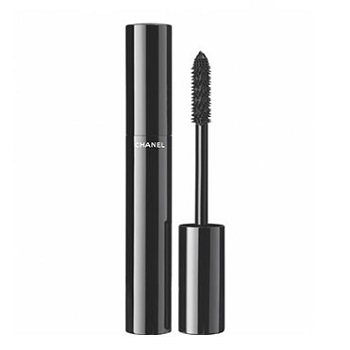 DESCRIPTION
Simply – Chanel. Simply – Le Volume. A simple name. Instead of a diversity of colors, the traditional, almost ascetic, and consequently, classy tube attracts the eye with the subtlety.
A simple bottle is covered in black and decorated with a small white Chanel name (next to the cap). Simplicity and seriousness. Chanel is a classic. It doesn't have to use rainbow, bright shades to attract attention.
The bottle conceals some eye-friendly attributes: a silicone, typical spiral brush. It has small yet long and dense bristles which grab every eyelash and coat it with the pleasant formula. Interestingly, the bristles have different lengths so you can be sure that every lash is going to 'catch on' the wand. The spiral precisely coats the lash, increasing its thickness at every side. This guarantees a multidimensional volume.
Chanel Le Volume Mascara has a very good consistency, neither too watery nor too sticky. It dries quickly but you can apply next coats fast and avoid clumps and flakes. The first coating guarantees good extension and darkening as well as gentle volume boost, giving a perfect day look. With the next layers, both the length and volume are intensified. The wand's tip allows for coating the bottom lashes precisely.
The special formula of Le Volume doesn't only provide a good consistency but also strengthens and nourishes the eyelashes which are elastic and soft even after a few layers.
The mascara is quite easy to remove (very mild removers may fail so go for stronger products); it doesn't flake while you wear it.
Chanel Le Volume has been launched in several colors. At drugstores and online stores, you can get the classic black (regular or waterproof), browns, blues and violets. The mascara has a 6-ml capacity and costs about $32.
PURPOSE
Chanel Le Volume has been designed for eyelashes, no matter their length, density and condition. It's suitable both for the work and big-night-out makeup. It lets you build the intensity through increasing volume with every coating.
INSTRUCTIONS FOR USE
You coat the lashes with Chanel Le Volume in a traditional way: hold the wand horizontally and start coating at the base of lashes, moving upward. You should avoid hasty, zigzag motions if you want to cover each lash with the mascara. The bristles effortlessly grab the eyelashes for even coating.
BENEFITS
a beautiful, simple bottle for elegant women
great lengthening and volume-boosting
durability, no flaking or smudging
works for go-to and party makeup
intense, highly-pigmented, deep colors
non-sticky formula
conditioning substances deliver a lash bounce
a silicone, precise brush with flexible bristles
several color versions
DOWNSIDES
removing the mascara requires stronger products
removing the mascara with a mild product means harsh rubbing and causes skin irritations