There's More to MASCARA than Meets the Eye
No. 13 Benefit They`re Real!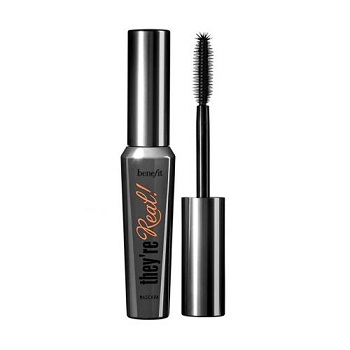 DESCRIPTION
They're Real! Mascara is the pride of Benefit. The brand promises the effect of fake lashes so you can deceive the world – everyone's going to wonder if these are your own lashes or falsies?
Benefit Mascara received lots of prestigious awards e.g. for the best mascara of 2014. It was the best-seller in the USA for a long time.
The task of They're Real! is thickening, lengthening and curling the eyelashes as well as precisely separating them one by one. The formula is long-wear and guarantees an all-day-long, flawless look. It's smudge-free, flake-free and adds a bit of shine to the lashes for a healthy look.
The mascara has a specially-designed brush. There are longer bristles at the tip, creating a round ball and allowing for the precise coating of the shortest eyelashes. The brush beautifully separates and enhances each one, thickening and lengthening.
Eyelashes are bolder, more defined and impressive.
They're Real! Mascara is non-sticky and long-wearing. Sadly, it's easy to apply too much of the mascara and get the effect of spider legs. That's why women, who aren't experienced in makeup, must be careful with the product. It costs $24 and has a capacity of 8.5 ml. The product comes in three shades. There's also a smaller – 4 ml – version of the black They're Real!
The tube looks fancy (pin-up design). In comparison to other mascaras of the same price, Benefit fails to impress. Some of you might not be fond of a bit childish pin-up style.
PURPOSE
The mascara works for the everyday eye makeup. Thanks to the consistency, the first layer separates well but you must be careful with every other layer.
INSTRUCTIONS FOR USE
They're Real Mascara has a specially-designed wand which allows for a traditional lash make-up (hold horizontally). The tip has long bristles which let you fan out even the tiny and thin lashes (hold vertically).
For bolder eye makeup, the brand advises on gentle, zigzag motions.
BENEFITS
a good, innovative brush
non-sticky formula, nice separation
much thicker and longer lashes
long-wear, flake-proof
award-winning
coating the tiniest eyelashes
DOWNSIDES
some of you will dislike the pin-up style of the packaging
removing the mascara takes lots of time
skill and precision are necessary to apply next coats
the mascara may leave lashes clumpy
a comb for separating the lashes after coating is a must