There's More to MASCARA than Meets the Eye
No. 7 Guerlain Le 2 de Guerlain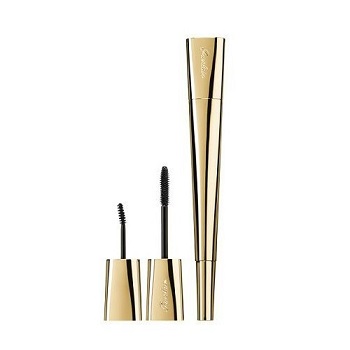 DESCRIPTION
Le 2 de Guerlain is a special-task cosmetic. Thanks to two spirals – housed in a fancy golden tube – the eye makeup is perfect. Ideally-coated, long eyelashes (thanks to the bigger, silicone brush) and perfect makeup of the corner and thinnest lashes (with the small, fiber brush).
Le 2 de Guerlain is popular among fans of perfect makeup and women who take their time while applying makeup in the morning. Using two brushes requires a bit more time but it gives brilliant effects.
The bigger brush is silicone thus separates longer lashes very well, coating each one evenly. The smaller one is made up of fibers and it's slightly curved for easier coating of thin and tiny lashes. It 'brings out' the lashes that we usually can't even notice. Coated with the mascara, they intensify the look and make the whole lash line fuller.
Le 2 de Guerlain Mascara has a beautiful design. The bottle amazes with its shape and creativity. It gives an impression that the tube is wider on one side and narrower on the other one. The mirror, golden layer provides an interesting shadow and play of light on the surface. This extraordinary tube has been designed by Helle Damkjaer – a famous designer of accessories, furniture and jewellery.
Guerlain Mascara is rich in an array of components that nourish the lashes and ensure good appearance after coating e.g. lash-conditioning, natural beeswax. Two, new-generation polymers have been included instead of commonly-used waxes. The polymers are to allow for better coverage and separation.
The mascara has a capacity of 8 g and costs around $25.
2. PURPOSE
Le 2 Guerlain Mascara is intended for women whose lashes have different lengths and ones who desire to bring out the beauty of tiny lashes. The mascara allows for lash volume boost and eye definition.
3. INSTRUCTIONS FOR USE
It's a two-brush mascara. Use both during makeup for the fuller lash line effect.
First, you coat your eyelashes with the big, silicone brush to increase volume of longer lashes, curl and lengthen them.
Next, use the smaller brush to define the tiny eyelashes, focusing most on the lower eyelids and eye corners.
BENEFITS
a beautiful tube
modern technology (new-generation polymers)
a large, silicone, good-quality brush
an innovative approach to lash makeup (two brushes)
an effect of dense and separated eyelashes
DOWNSIDES
two brushes mean you need more time for the application
you must get the hang of using two different wands
if you use the fiber brush wrongly, you spoil the effect delivered by the silicone brush
if you have no experience in makeup, you may end up with clumpy lashes