There's More to MASCARA than Meets the Eye
No. 5 Giorgio Armani Eccentrico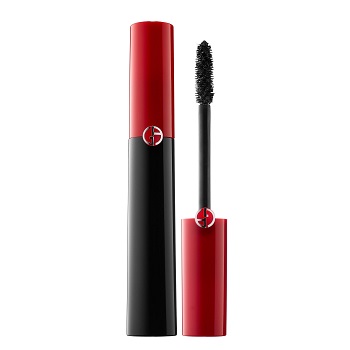 DESCRIPTION
Giorgio Armani Eccentrico Mascara is a unique and exclusive product. The bottle catches the eye with an intensely red cap and the designer's small and round logo. The design is black and red. The bottle has a classic, oval shape. It attracts attention and stands out among other lash-makeup products. Inside the bottle, there's a brush that's quite surprising, too. It's made from elastomer, has a vivid, red color and crossed bristles. Every lash is grabbed and evenly coated with the mascara. The product ensures a very precise extension and separation. The spiral combs them out effectively. As easy as it is to coat long lashes, coating the bottom and corner ones can be a bit problematic. The tip of the brush hasn't got the bristles to do it. Arranged in X-shape, the wand's bristle enables adding next coats provided you work with the wet mascara. When the product dries, it keeps you from separating the lashes and leaves clumps. Luckily, it has a good consistency and doesn't dry too fast. As a result, you can build up the volume. The mascara is long-wear, flake-free and smudge-free. Removing it doesn't cause much trouble.
Giorgio Armani Eccentrico aims at creating an eccentric lash makeup as well as enhancing the eyelashes with a unique color. The range of colors includes an intense red and an exceptional and brand-new blue known as Armani Navy. The pigmentation is very good. Thanks to the mascara, you can achieve a full-sized, vivid redness on your lashes for the first time.
Eccentrico Mascara holds 10 ml and costs $32. Is the innovative brush worth such a price? I think the mascara is worth trying if you look for rare mascara colors which are surprising in this product.
PURPOSE
The mascara is good for the daily use. It's great if your lashes in the corners aren't very short because the brush fails to give a precise coating in this area.
INSTRUCTIONS FOR USE
The bristles have the same length so the brush catches large parts of lashes and precisely curls them up. The X-shaped bristles don't mean you need lots of makeup experience. There's no need for spinning the wand or using the zigzag motion, which lets you save time and get a nice effect.
BENEFITS
an innovative, elastomer brush
the X-shape arrangement make the coating easier
an interesting, intriguing bottle
long-lasting, flake-proof and smudge-proof
troublefree removal
interesting, unique mascara hues
good consistency
DOWNSIDES
it's hard to coat the around-eye-corner and lower lashes
you must make sure that one coat doesn't dry before applying another; otherwise the mascara will leave lashes clumped