There's More to MASCARA than Meets the Eye
No. 8 Helena Rubinstein Surrealist Everfresh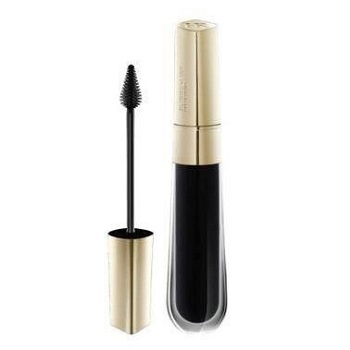 DESCRIPTION
Surrealist Everfresh is an innovative mascara launched by Helena Rubinstein. It draws attention with the interesting and unusual design. The bottle is transparent so you can see the content. Firstly, you can control how much you've used up. Secondly, you can check if the product is still fresh and good-quality.
While creating Surrealist Everfresh, the brand's priority was to make a mascara that keeps fresh all the time like it was on the day of leaving the factory. In this way, the owners of the mascara enjoy beautiful and stunning lashes from the first to the last day of use of the product which keeps its damp, untouched consistency.
The brush in this mascara is exceptional, too. A silicone, small, tear-shape spiral. It's supposed to make mixing the liquid easier, keep the product fresh and guarantee a precise eye makeup. A small brush is much easier to operate around the eyes. The bottom of the brush – a bit thicker – lets you precisely coat the longer lashes. The precise tip, on the other hand, is good at coating short and thin lashes. Bristles are densely-arranged in the silicone brush; they nicely separate the eyelashes, keeping from applying too much. This gives the effect of long, well-coated lashes which don't clump during the application. Similarly to nearly every Helena Rubinstein mascara, the removal needs a good-quality product.
The mascara contains Jojoba Oil, Palm Oil and Panthenol that care for the lashes and keep them in shape.
The product has a very small capacity – 3.7 ml. The price ($35) seems exorbitant, looking at the amount of the mascara included in the tube.
PURPOSE
Helena Rubinstein Surrealist Everfresh is dedicated to all women, or all lash types. It extends and slightly thickens the lashes, covering with a vivid, saturated black shade.
INSTRUCTIONS FOR USE
The brush of Surrealist Everfresh is quite small and very precise. It's nice to use. Different lengths of silicone bristles coat long as well as short, corner eyelashes.
BENEFITS
an innovative formula, delivering the non-stop freshness
an interesting, precise, silicone brush
easy and fast makeup without spider-leg effect
a nice, modern bottle
lash-enhancing ingredients
DOWNSIDES
a very small capacity
a high price
makeup removal requires good-quality products
using the small brush takes a lot of time