There's More to MASCARA than Meets the Eye
No. 14 Clinique High Impact Extreme Volume Mascara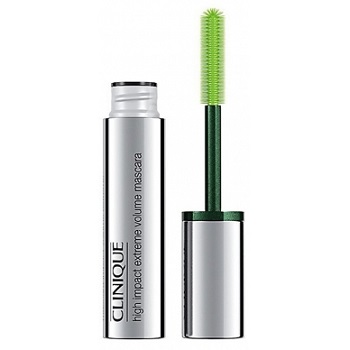 DESCRIPTION
Clinique Mascara is housed in an aesthetic, silver and minimalist packaging – typical to the brand. It's not fancy yet tasteful, in a class of its own. What does the pretty, modern tube conceal?
High Impact Extreme Volume Mascara has a silicone, straight wand with evenly and densely-arranged bristles. The brush is big in comparison to other wands of this type. As a result, the eye makeup takes much less time. The wand grabs many lashes at a time; silicone bristles effectively separate and coat the eyelashes. Operating the wand on the lash line can bring some problems, though; especially if you lack a knack for makeup or you're a beginner. Smudging the upper lids is very easy whereas it's quite hard to coat the lower lash line (even though the tip bristles aim at catching the corner eyelashes). Despite the large size, the brush works great on longer lashes, delivering a dramatic look. Firstly, you need to be patient to get the hang of using the wand.
Keeping the silicone brush clean is a child's play. The bristles stay untouched while cleaning.
The mascara has a unique formula which makes it flake-proof and smudge-free. High Impact Extreme Volume Mascara is very well-pigmented. The black shade is intense and looks good even in the strong lighting. Despite being long-wearing, it's extremely easy to wash off, which leaves both your lashes (harsh rubbing is damaging) and fragile around-eye skin in peace.
The mascara gives a visible volume and extension but you need to apply two, three coats. Good news is the mascara works for the sensitive eyes and contact lens wearers.
The mascara has a capacity of 10 ml and costs approx. $21.
PURPOSE
High Impact Extreme Volume Mascara is made for a day lash makeup. Thanks to an effect of long and strongly-coated lashes, it works for an evening look or smokey eye makeup, too.
INSTRUCTIONS FOR USE
There's no difference in the use of High Impact Extreme wand and other traditional brushes. However, you need a bit more attention and experience. You must test it and check how to apply the product to avoid black clumps and streaks on the skin. If you master the makeup with such a large brush, the effect of long and full lashes is truly extreme.
BENEFITS
a nice, minimalist tube
a durable, silicone brush
a beautiful shade of intense black
extreme thickening and length
long-wear formula
easy to remove
DOWNSIDES
you need some makeup experience to use the big wand
smudges the around-eye skin
you can easily get the effect of overdone lashes so the mascara isn't ideal for the day makeup
the brush picks up too much so the mascara runs out more quickly
clumps are possible