There's More to MASCARA than Meets the Eye
No. 22 Perversion Urban Decay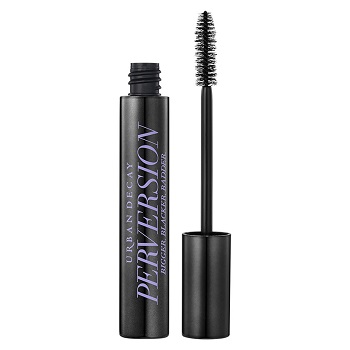 DESCRIPTION
Perversion Mascara comes in a simple, metallic, round, charcoal bottle. A gently-shimmering packaging looks nice but the violet, big writing looks a bit childish and resembles products for teenage girls. That's why the mascara doesn't look like a serious, tasteful cosmetic. Luckily, the brand didn't use more of extra, strong colors.
Let's face it, the packaging isn't the most important. There's more to the mascara than meets the eye. The composition offers natural waxes, elastin and liquid collagen – ingredients that condition the lashes and make coating easier. Urban Decay Mascara is very well-pigmented and amazes with the 'perverse' blackness. Thanks to the consistency, the mascara is easy to apply. The eyelashes get an intense color, a great length and thickening. The manufacturer promises you can add next coats throughout the day, even after several hours of wear. However, the nylon wand makes it harder – lashes are no longer perfectly separated and start getting a bit clumpy. Sadly, even the best consistency isn't going to help nylon bristles of the wand. The classic shape saves the brush, though; it gives lots of freedom while maneuvering around the lash line. This allows for the effect of nice and long lashes provided you work with the mascara that is still wet (it's flexible). You won't do much with the product that has dried on lashes.
Perversion Mascara has a capacity of 12 ml and it's available in black only. Women, who want to test the mascara, can go for the travel-size version – 4 ml. The full-sized version costs $23.
PURPOSE
The mascara is designed for the everyday makeup and handles all lash types. It'll be loved by women who have fair or short lashes because Perversion delivers a very intense black shade and nice extension.
INSTRUCTIONS FOR USE
The product comes with a traditional wand so there's nothing surprising about the application – coat the lashes starting at the base. If you want to help the nylon fibers and coat the lashes better, try gentle side-to-side motions (zigzag). In this way, you get better effects and easier application. Still, adding next layers during the day isn't a good idea. The wand will have problem grabbing individual lashes.
BENEFITS
an aesthetic, durable bottle
good composition, many conditioning ingredients
long-lasting, flake-free
very good lengthening effect
a very nice, intense blackness
easy removal
DOWNSIDES
the tasteless bottle
the fiber wand doesn't give as intense makeup as the brand promises
the fiber brush is hard to work with; it's difficult to apply next coats