There's More to MASCARA than Meets the Eye
No. 19 Dior Diorshow Extase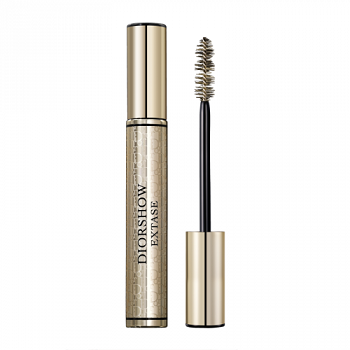 DESCRIPTION
The mascara is housed in a very elegant, golden, metal tube which is decorated with the Dior logo. The bottle looks luxury. According to the manufacturer, the mascara gives your lashes the ecstasy. The product features a special, thickening formula and a conditioning substance which ensures a nice appearance and good condition. Apart from the black pigments, the mascara contains a powder which enhances the good pigmentation.
Diorshow Extase wand combines two types of fibers that are supposed to give better coating and a precise separation. The brush has an untypical shape: the bristle has different lengths and makes up irregular 'bumps'. Such a combination of longer and shorter bristles aims at making the mascara more precise and ensuring an extreme length and volume after just one coat.
The mascara has a great consistency; it's a bit dry. Although the first coat really gives a nice thickening and extension, next layers tend to leave clumps. The powdery formula makes the mascara dry out and slightly flake after longer use. Due to the consistency, there's lots of the product on the brush, therefore one coat is perfectly enough for a volume boost and amazing black shade. You need to get the hang of using the wand so you can enjoy the maximum benefits with just one layer.
The new and fresh mascara is very long-wear but it gets a bit flaky after a month or two. Removing the mascara isn't problematic, especially when you take off just one layer.
The mascara is available in three colors: black, brown and an impressive dark violet.
Diorshow Extase has 10 ml and costs approx. $30.
PURPOSE
Diorshow Extase Mascara is to extend and increase the volume, no matter the type and length of eyelashes. It's a saver for women who have very fair lashes yet dream of astonishing, intense blackness.
INSTRUCTIONS FOR USE
The wand is made up of irregular, alternate fibers and it's quite precise. A skillful application guarantees volume and extension after only one coat. Too bad, next layers are likely to spoil the effect. That's why this mascara works only for the everyday makeup. Stronger makeup and next coats can leave you with clumpy lashes.
BENEFITS
a tasteful bottle
an intense, well-pigmented color
lash-conditioning complex
comfy removal
one coat is enough for nicely-looking lashes
a rich color range
DOWNSIDES
unsuitable for an evening makeup
too mild effect
flakes off
runs out quickly, gets an unpleasant, thick consistency after a month or so