There's More to MASCARA than Meets the Eye
No. 18 Givenchy Phenomen'eyes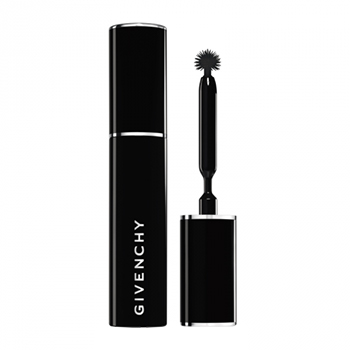 DESCRIPTION
Givenchy Phenomen'eyes Mascara is untypical. It's small, housed in a round, black bottle with a nice, silver top (decorated with geometrical design). It looks very tasteful and attracts attention with an untypical size. Still, it's the thing that's inside the tube that's most surprising – a small, silicone wand. It's got a shape of small ball that's surrounded by long bristles. The silicone bristles require a completely new approach to makeup. The application is going to take much longer, that's for sure. It's because the wand is quite small. Its innovative shape is supposed to make it more precise. It's easy to operate the wand on the lash line. It lets you coat the smallest eyelashes, providing maximum extension and separation. The mascara won't be popular among women who have sparse lashes because it's not good at building the volume up. The product has a good consistency and it's very long-wear. Even though the mascara requires the most effort while applying, it's able to ensure the effect of much longer and thicker eyelashes. The brush separates very well and doesn't pick up too much so there's no need for using a comb afterwards. The mascara goes through any conditions, it's flake-free and effortlessly removed with a mild remover.
The mascara is quite thick and, sadly, it doesn't leave the eyelashes soft and bouncy. It dries and gives the effect of deep, a bit powdery blackness. The formula has been composed for the needs of the spherical wand and it may cause allergic reactions in case of extremely sensitive eyes.
The mascara has a capacity of 7 ml and costs around $32. It's going to temp women who pursue cosmetic new arrivals and like to test unusual products.
PURPOSE
Phenomen'eyes Mascara has been made for short lashes. It effectively extends and separates, dealing well with the corner eyelashes. Too bad the spherical, silicone wand fails to pump up the volume.
INSTRUCTIONS FOR USE
The round brush requires different maneuvers on the lash line. Applying the mascara with the small wand is comfy because you freely move it around the eye area. Still, it takes lots of time. Givenchy Mascara isn't a good morning-makeup choice when you hurry to work.
BENEFITS
an extraordinary packaging
an innovative, surprising, silicone wand
long-wearing
good pigmentation
effect of nice extension and separation
a precise and easy-to-use wand
the removal is trouble-free
DOWNSIDES
it may trigger allergic reactions in sensitive eyes
coating takes lots of time
the mascara doesn't add volume
not everyone will get used to the tiny wand