There's More to MASCARA than Meets the Eye
No. 25 E. Funkhouser Quattro Variable Lash Mascara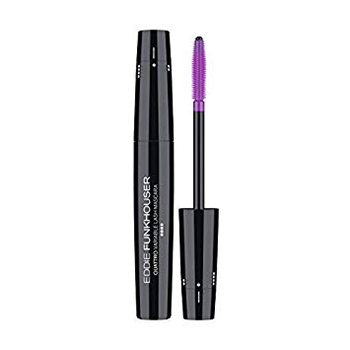 DESCRIPTION
Quattro Variable Lash Mascara looks quite simple and doesn't attract attention with the packaging. It's a black tube that slightly resembles a barrel. It has neat, white writings and looks just like hundreds of mascara bottles on drugstore shelves. Funkhouser conceals a secret, though. An innovative and creative silicone wand which comes with a small twist inside the bottle top. The twist lets you change the length and curl of bristles on the brush. There are as many as four levels which equals four different lash makeup effects. It gives the freedom as you can intensify both the length and volume. The wand gives lots of possibilities. You can set an optimal length of bristles and keep using the same length or change it numerously during an application. The mascara has a great pigmentation yet it fails to provide an intense blackness in the strong lighting (tips have a slightly charcoal shade). The mascara is long-wearing but it's a bit flaky after a few hours of wear. Contact lens wearers risk getting the mascara under their eyelids or even lenses. You must also remember to keep the brush clean; mascara buildup may disturb the effects. Quattro Variable Lash has a fairly sticky consistency so too much may weigh the lashes down. Wrong quantities are likely to cause clumping. Before getting the hang of the four-level wand, you should get yourself a lash comb.
The mascara holds 7 ml and costs around $13.
PURPOSE
The mascara is supposed to increase the volume and gently lengthen the lashes. An innovative, interesting wand lets you adapt the bristles to the needs of eyelashes. In this way, you can gift them with nice thickening, separation and curl.
INSTRUCTIONS FOR USE
You set the fixed length of bristles (best for your lashes) or intensify the makeup effect changing the bristles with a four-level twist. You need some time to work the mascara out and adapt to the needs of your lashes. Don't be discouraged if you fail at first because it's absolutely normal.
BENEFITS
an innovative, four-level silicone brush
easy to use, matches the individual needs of lashes
an affordable price
easy to remove
DOWNSIDES
may weigh lashes down
the wand requires a few tests before learning to get the best makeup effects
it may flake after long hours
lashes aren't ideally black in the strong, intense lighting
formula isn't contact lens wearer-friendly