There's More to MASCARA than Meets the Eye
No. 27 Estēe Lauder Sumptuous Bold Volume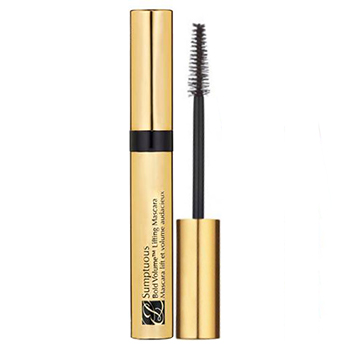 DESCRIPTION
Estēe Lauder Sumptuous Bold Volume is one of the fourth Sumptuous products. This version has a light gold color, a tasteful, navy-blue stripe on the top and a subtle logo at the bottom of the bottle.
The tube looks sublime and it's nice to reach for the mascara every morning. Inside the bottle, there's a brush featuring two types of nylon. White and flexible bristles are to ensure a good coating and make the application easier. On the other hand, dark and stiff bristles are supposed to work as a comb and nicely separate the lashes. It's lash-friendly because the formula has been enriched with two synthetic fibers aiming at a volume boost. If it wasn't for a specially-designed spiral wand, the effects would be disappointing – fibers leave clumps and have the tendency to 'stick' to each eyelash. The brush comes to rescue provided you apply just a little. Next layers mean quite a challenge for the nylon brush. If you apply too much, you may end up with an unattractive, spider-leg effect. Staying with just one coat makes the best choice but that's not why you buy a mascara of a well-known and popular brand. One expects spectacular effects from such products.
The mascara has a very nice black shade and is quite long-wearing. It may flake a bit after a day of wear. The wand has a conical shape and a perfect size, which lets it maneuver effortlessly on the lash line without smudges on the eyelids or brow ridge. Removing the mascara is trouble-free; a traditional remover or micellar water will do.
Sumptuous Bold Volume Mascara is to guarantee the effect of long and ideally-black lashes. It holds 6 ml and costs $27.50. Black is the only available color.
PURPOSE
The mascara is supposed to lengthen short lashes and slightly increase their volume. The nylon brush is well-constructed and profiled, making the use easier. Too bad, you can't make the best out of the mascara because of the fibers. Next coats leave more and more clumps, and the wand fails to comb the lashes out.
INSTRUCTIONS FOR USE
You coat the eyelashes in a traditional way, from roots to tips. You must do it carefully to avoid applying too much which would lead to ugly spidery lashes.
BENEFITS
a nice tube
an untypical wand structure (two types of nylon bristles)
good pigments, a deep black shade
easy to remove
DOWNSIDES
the fibers leave clumps
bad for the bold makeup
may flake off and smudge the lower eyelids
a quite problematic application
a comb is a must