There's More to MASCARA than Meets the Eye
No. 6 Yves Saint Laurent Mascara Volume Effet Faux Cils Baby Doll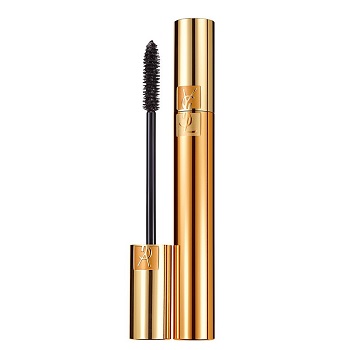 DESCRIPTION
Volume Effet Faux Cils Baby Doll Mascara is an innovative version of the traditional Volume Effet Faux Cils. Why innovative? It comes with a high-quality, silicone brush. The spiral arouses interest. It's a micro-faceted brush that grabs every eyelash, stretching it and precisely coating. This definitely delivers multiplied volume and fullness on the entire line. The brush has a traditional shape; it's simple and has regular bristles. It runs smoothly and lets you reach every single eyelash, even the tiny one. Thanks to the narrowed tip, you have no problems coating the lower lashes.
The mascara has a very good consistency and doesn't clump even after several layers. Consequently, you can create the effect of thicker, curled and nicely-defined eyelashes. There's something to the mascara's name; it really gives doll-like lashes.
Volume Effet Faux Cils Baby Doll has been enriched with a range of ingredients that nourish the lashes and ease the application. It neither clumps nor dries too quickly so you can work with wet mascara while applying next coats. You can be sure the mascara won't leave unsightly clumps on your eyelashes.
Yves Saint Laurent Mascara has a very nice bottle – simple, golden tube with the brand's logo. There's a red writing – baby doll – along the tube and it looks intriguing and makes the classic packaging a bit naughty. This is what Volume Effet Faux Cils Baby Doll should be like: combine a classic mascara and brush with innovative solutions (micro-faceted bristles). It's a guarantee of a subtle makeup as well as seductive and flirtatious looks (with extra coats).
Volume Effet Faux Cils Baby Doll is easily removed yet the intense makeup needs a bit more effort (a stronger remover makes a good choice). The product has a capacity of 5 ml and costs around $32.
PURPOSE
The mascara is dedicated to all types of lashes. It's going to appeal to the fans of classic makeup and women who go for the intense, extreme lash volume and length.
INSTRUCTIONS FOR USE
Yves Saint Laurent Mascara brush has a regular shape and you use it in a traditional way. It's silicone so the use is easier. The spiral provides the lash-by-lash separation. No worries about stuck-together lashes.
BENEFITS
a silicone brush of a classic shape
an easy, precise makeup
innovative, micro-faceted bristles
conditioning ingredients
beautiful bottle
good pigmentation
ideal length, volume and separation
DOWNSIDES
too bad the mascara comes in just two colors
the more coats, the harder to remove
a small capacity in comparison to other products
you can't let the mascara dry during the application because it could leave clumps