There's More to MASCARA than Meets the Eye
No. 24 Smashbox Maskara EYE BRIGHTENING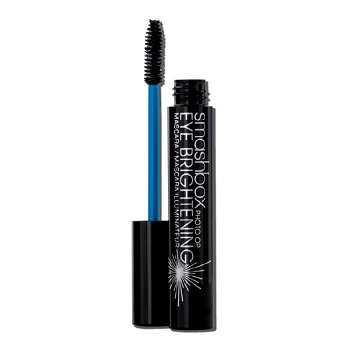 DESCRIPTION
Smashbox Mascara comes in a black, plastic bottle with a big, silver name of the brand and mascara. There's a silver star at the bottom which says a lot about the product's effects but, too bad, it spoils the design. This is what degrades Smashbox Mascara among other mascaras.
The product is equipped with a nylon brush. It has a regular, straight shape. The bristles are long and densely-arranged whereas the mascara is quite dry. The product aims at extreme curling and lifting for the open-eye effect (making eyes look bigger). The nylon wand has no easy task – the manufacturer promises that using the mascara is going to save you from the ugly spider-leg lashes. The mascara is really clump-free. The unique pigments deliver a very deep, black and navy blue shade which is a stunning and rare hue. In the strong light (e.g. sunlight), gentle, navy-blue reflections are visible. That's why the mascara makes a good choice for fair-skinned women. Although the nylon brush doesn't leave lashes clumpy, the product fails to deliver the promised 30-degree curling effect with one coat. Smashbox Mascara quickly dries on the lashes, leaving them longer, intensely-black and sadly… flat. You need to use a curler. Due to the dry consistency, the mascara flakes after several hours of wear.
Removing the mascara is quite trouble-free but you need to do it precisely to avoid a dark navy blue color on your lashes.
It's hard to keep the thick wand clean. You must treat it gently to avoid bending fragile bristles.
The mascara holds 9 ml and costs around $30.
PURPOSE
The mascara has been created for women who have flat and thin lashes. The consistency allows for applying a few coats without clumps. Too bad, there's no lifting effect and you need a curling tool.
INSTRUCTIONS FOR USE
The traditional and fairly dense, fiber brush should be used in a regular way: beginning at the roots and moving upward. No worries about clumping.
BENEFITS
a thick, fiber brush
an intense and rare combination of black and navy blue
very good extension effect
easy to wash off
DOWNSIDES
the tube doesn't look aesthetic
the mascara flakes after a few hours due to the dry consistency
no lifting or open-eye effect
leaves lashes straight and quite stiff