There's More to MASCARA than Meets the Eye
No. 11 LANCOME - Hypnose Drama Mascara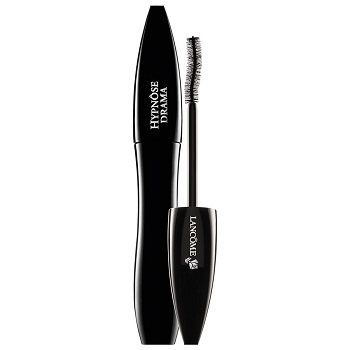 DESCRIPTION
Hypnose Drama is a mascara for makeup artists and women who love testing new, innovative products and value untypical solutions. It goes with a rare type of a brush – S-shaped.
Such a shape of the wand requires a bit different approach to the eye makeup. You need to move the wand in different ways for the maximally spectacular eyelashes. While 'getting to know' the brush, it may seem complicated and clumsy. Luckily, after mastering the technique, the effect of long, separated and thick lashes is astonishing. The curved brush is another plus; it makes coating the lower lashes much easier.
The bristles are quite long and densely-arranged. The wand is fluffy. Its shape lets you cover the lash line with just one sweep.
Hypnose Drama lets us create a strong, defined lash makeup. The wand works smoothly if you keep it clean. Nylon bristles are more prone to attracting the dust, impurities and makeup leftovers which settle on lashes after several applications. It happens because nylon bristles are thinner and rough so they get dirty more quickly.
The mascara comes in a nice, black bottle with a golden writing – typical to Lancome mascaras. The tube looks really aesthetic and impressive. The mascara is highly-pigmented which allows for the effects of defined, black lashes.
The mascara has a capacity of 6 ml and costs around $27.
PURPOSE
Hypnose Drama has been created to amaze with intense, long and full lashes of a deep, black color. It's designed for those who aren't afraid of a challenge and like to experiment with new makeup tricks. You must learn to skillfully operate the untypical brush to achieve spectacular effect.
INSTRUCTIONS FOR USE
Hold the wand horizontally and coat the lashes. During the first stage, place the curved side at the base and comb from roots to tips for a nice separation, curl and extension. Next, use the tip of the brush for an extreme volume and thickness.
BENEFITS
a nice packaging
an innovative, curved wand
good pigmentation
an extreme lengthening and volume
long-lasting, smear-proof and smudge-proof
easy makeup removal
DOWNSIDES
the brush needs a skill in the application
only black shade is available
it's hard to keep the brush clean
the mascara uses up quickly, losing the right consistency and scent