There's More to MASCARA than Meets the Eye
No. 29 Estee Lauder Sumptuous Extreme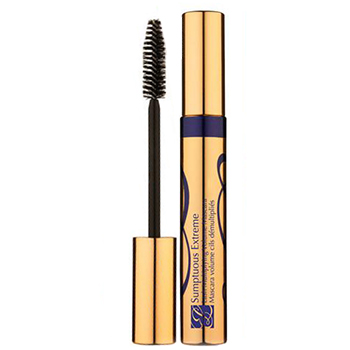 DESCRIPTION
Estee Lauder Mascara is housed in a golden bottle with navy-blue writing. There's an elegant logo at the bottom. The design is neat and impressive.
Boosting volume and lengthening are the mascara's main tasks. Eyelashes are supposed to look like falsies that amaze with length, volume and fullness on the entire lash line.
The mascara comes with a traditional, cone-shaped wand with a narrower tip. The bristles are quite sparsely-arranged.
Delivering spectacular appearance isn't up to the wand, though. Three types of fibers are to do the job. Each one is responsible for a different effect.
– Micro – Locking Fiber gives length and volume.
– Hollow Tube Fiber – aims at curling and lifting the lashes for an open-eye effect.
– Solid Rod Fiber – fills in the gaps between individual lashes for a fuller upper lash line.
Do the fibers really work wonders? The mascara is filled with them and you can feel it while applying the mascara – it's thick, a bit sticky. After a month, you see thin and tacky clumps on the brush. They fall off the wand the moment you take it out of the tube. Coating the lashes with this mascara isn't a task for beginners. The fibers weigh lashes down after just one coating. With next layers applied, the effect of clumpy eyelashes is intensified. For a nice extension and volume, you need to comb them after applying each coat, which extends the application time and spoils your mornings.
It can't be denied that the mascara has a beautiful color. The black shade is intense, saturated and impressive. Sumptuous Extreme has amazing pigments. Lashes amaze with a deep, black color even in a strong lighting.
The mascara has a capacity of 8 ml and comes in two colors: brown and black.
PURPOSE
Sumptuous Extreme is supposed to save short, sparse and faint eyelashes, ensuring the effect of falsies. Too bad, the set of fibers does more harm than good. The effect is cartoonish and too dramatic. Moreover, the mascara isn't long-wear and it tends to run on cheeks during heavy rain.
INSTRUCTIONS FOR USE
Sadly, the nylon brush doesn't make the application easier. You must be careful with the sticky formula and the wand which fails to separate the eyelashes and starts to rebel while applying next coats.
BENEFITS
a very elegant bottle
a strong, deep black shade
a classic wand shape
DOWNSIDES
makeup requires lots of effort and time
the fibers make lashes clumpy
an unpleasant consistency
smudges during heavy rain
the application gets harder after just a month of use