There's More to MASCARA than Meets the Eye
No. 21 Shiseido Perfect Mascara Defining Volume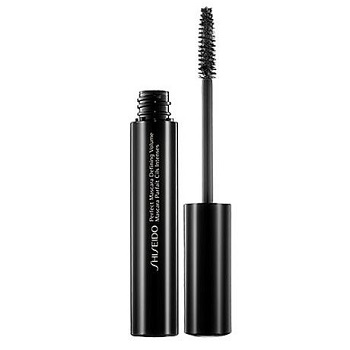 DESCRIPTION
Perfect Mascara Defining Volume has a very nice design. It's housed in a black glossy bottle with white writings that reveal the brand and the mascara's effects. There's a nylon, classic wand inside. It's straight, has evenly-arranged bristles and a bit narrower tip.
Shiseido Mascara aims at increasing lash volume. Thanks to the tacky consistency, the mascara coats each lash well. Too bad, the nylon wand works worse while applying next layers. Soft bristles have a problem separating the lashes. As a result, you must be careful not to apply too much and get clumps.
The brush has a traditional size. It's neither too big nor too small. It coats many lashes at a time. The narrow tip eases coating the bottom lashes.
The mascara has a nice yet quite vague black shade. Fans of extremely black lashes should go for a different product. Perfect Mascara Defining Volume guarantees a natural, matte finish.
The product comes in a black color and is fragrance-free, dermatologically and ophthalmologist-tested; suitable for the sensitive eyes and contact lens wearers. It has 8 ml and costs around $20.
PURPOSE
The mascara is intended to multiply the lash volume. It's a good choice for women who want a gentle lash definition and like soft makeup which doesn't attract attention with an intense black hue.
INSTRUCTIONS FOR USE
You apply Shiseido Mascara, using a traditional technique: start at the base and move upward to the tips. While applying next coat, don't wait until first one dries. If you do, the nylon brush won't do well with another coat, leaving you with clumpy and weighed-down lashes.
BENEFITS
a nice, aesthetic packaging
the mascara provides a good coating
safe, fragrance-free, dermatologist and ophthalmologist-tested
it delivers a nice, soft eye makeup
DOWNSIDES
a few coats may leave clumps
the black shade isn't intense, poor pigmentation
too sticky consistency doesn't go with the nylon wand
the mascara is quite hard to apply, especially the next coats