There's More to MASCARA than Meets the Eye
No. 9 Lancome Grandiose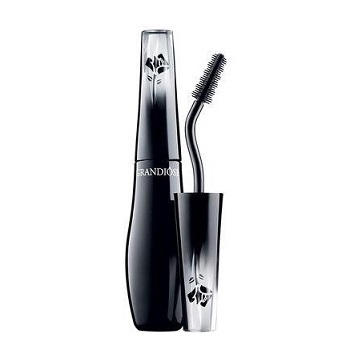 DESCRIPTION
Grandiose Mascara's packaging arouses interest. It's a plump, intensely-black bottle which narrows upward, moving to the lighter tones and finishing with the white shade at the top. The cap is decorated with the characteristic Lancome rose. Once you untwist the bottle, you see another surprise. The silicone wand looks like a swan's neck. The brush has been designed so as to reach every lash and coat it with the black pigment, boosting volume and length.
The brush has small bristles that are supposed to perfectly cover each eyelash, increasing its thickness. It definitely enhances the eyes but you can get yourself sticking-together lashes with the multiple layers (due to the sparse arrangement of the bristles). Therefore, you must be careful because operating the curved brush is different than using a traditional one. After mastering the application, the effect of the dashing and defined look is guaranteed. The lashes get the color of deep blackness.
Fun fact – Penelope Cruz is the face of the Grandiose Mascara.
The mascara has been enriched with natural oils (among others, Palm Oil, Jojoba Oil), ultra-black pigments and rose flower stem cells.
Compared to others, it has a large capacity (10 ml) and costs $32.
PURPOSE
The mascara is designed for all types of eyelashes. It appeals mostly to women who have short and thin lashes and can't get good effects with a regular, classic, fiber brush.
INSTRUCTIONS FOR USE
You must learn how to use the Swan-Neck brush.
Hold the brush horizontally and coat the longer lashes. Turn the wand upside down and use the shortest bristles for coating the lower and corner eyelashes.
BENEFITS
a beautiful packaging
an innovative wand
a silicone brush that's made from solid material
a guarantee of coating the tiniest lashes
a vivid, black shade
gently curls
DOWNSIDES
sparsely-arranged bristles may stick lashes together
you need some practice to use the innovative wand the right way
you need lots of time to apply makeup with the innovative brush